A FALL FROM GLORY
JennAir and its legacy of innovation were on the verge of irrelevance.
JennAir was once known for its revolutionary premium appliance offering—innovation that introduced completely new kitchen design possibilities in the 60s. But by 2017, JennAir had become an empty shell of its market-changing past. Years of resting on its laurels left the brand vulnerable and declining, awareness and consideration dropping year-after-year.
Meanwhile, Sub-Zero/Wolf became a ubiquitous status symbol in high-end homes everywhere—a rarely questioned choice among the wealthy who blindly desired "the best." In their shadow, JennAir was described as cheap "entry-level luxury."
In a category of label-worship, JennAir had become generic. It was time to reclaim the soul of JennAir.
OUR MISSION WAS CLEAR
Tear down the conventions of the kitchen as they stand today and redefine the very nature of living well, inside the home and out.
Starting from the ground up, we pushed the category from "premium stainless steel" to "progress by design," and Bound By Nothing became our operating system. A platform that rejects the expected confines of luxury appliances and elevates JennAir to the world of fashion, art and music.
FILM
The rebranding began with the launch of the Anthem film. At its core, a belief that modern luxury is a scam, brainwashing consumers into one-size-fits-all dreams, fueled by empty symbols and label worship. But a new day has dawned. JennAir has risen from the ashes with a defiant new identity, on a mission to tear down tired design conventions and forge a progressive new vision of luxury.
The attack on complacency continued with a pair of films that dropped later in the year. In Mannequin, we imagine a world where mindless luxury reaches inhuman proportions. Plastic smiles, plastic people and, yes, plastic appliances. The routine clicks along in hollow perfection, until one woman's defiance brings it all to a grinding halt.
In Duet, two rebels notice each other from across the room as they struggle to break free from rigid conformity.
EXPERIENTIAL
In the midst of all this, we launched immersive experiences at the leading home design shows in NY and LA. By day, we defied the tired trade show booth formula and erected a labyrinth, blurring the lines between appliance and art and putting the competition on notice.
By night we stole the show again, collaborating with visionary artists in a series of events that were a far cry from the standard wine and cheese.
From a dinner with rebel Chef Jordan Kahn where guests devoured the enemies of progress in a series of high-concept dishes to genre-bending performances that electrified guests.
We elevated JennAir from the stuffy appliance space, to the world of luxury at large. From coast to coast, designers, tastemakers and affluent homeowners waited by the thousands for a glimpse at the brand they had once forgotten.
In the end JennAir earned top honors in New York and LA, grew floor commitments by a staggering 86% among retail partners and generated millions of dollars in pre-orders before a single new product was even released.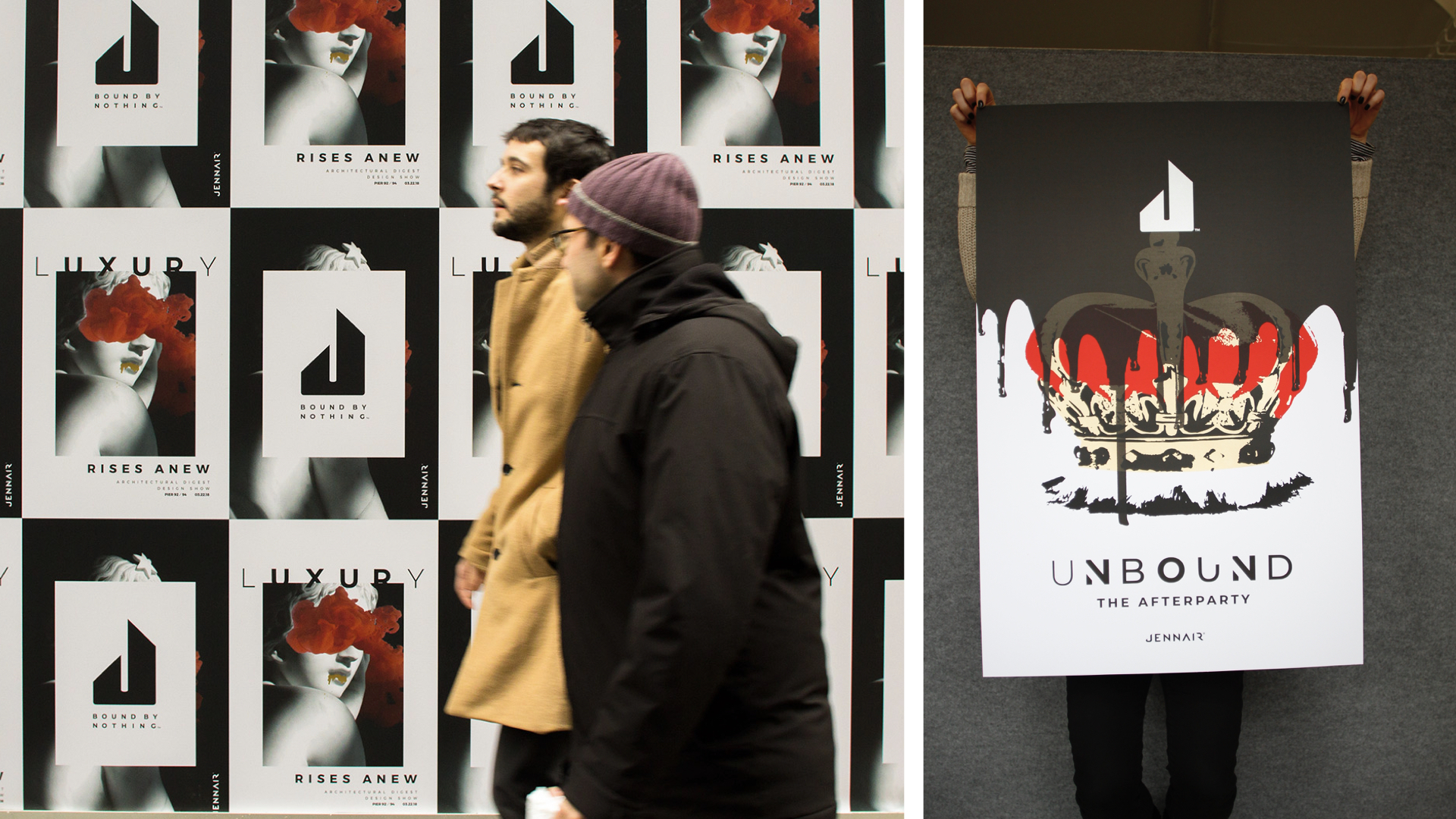 SOCIAL
We deleted JennAir's tired social media accounts and started fresh with a focus on product as art. Click here for more: JennAir Instagram